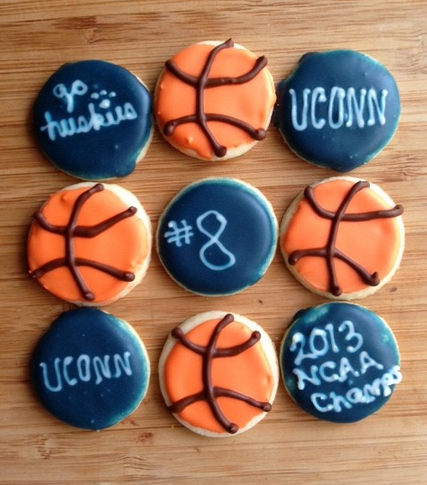 It's rare that I post two days in a row, but let's make an exception for these UConn sugar cookies, shall we? It's not every day that the UConn women's basketball team wins the National Championship (though with their 8th National Championship now behind them, it sure feels like it!)
I have an IMMENSE amount of UConn pride. Though I never considered going to the University of Connecticut until my junior year of high school, it was one of the best decisions of my life. And though I grew up not paying any attention to college basketball (despite having a father obsessed with the women's team), within a few minutes of being on campus, I wanted to see what all the fuss was about. I drank the kool-aid and it tasted extra sweet... like historic double national championships.
After 2009, I learned NOT to bake for a team I'd like to win, as I baked these UConn cupcakes for the men's basketball team in the Final Four and I felt like it was a jinx!
So, this year I waited until after the big game was over to bake, and I'd like to show you how you can bake up something sweet for your favorite basketball team too!
How to Decorate Basketball Sugar Cookies
1. Start with your favorite sugar cookies (bake your own and cut the dough into circles first or use store-bought circle sugar cookies).
2. Frost with orange frosting. Allow to set.
3. Pipe the first curved line with brown icing.
4. Pipe the second curved line with brown icing.
5. Finally, pipe another curved line horizontally through these first two lines.
Voila!
Happy Baking!
xo