While Kelly's off galavanting through Disney, she's recruited a very special guest blogger to fill the void! Meet Jeff, Kelly's super-witty, cartoon-drawing, adorable dog-owning, Disney-loving coworker, classmate & co-jaunter. Jeff pens the gay marriage & more blog, Lance+Jeff and keeps his readers laughing at his impeccable wit and hilariously awesome cartoons!
I am not good in the kitchen. Nor am I the kind of Disney fan that's the most knowledgeable of all minute trivia. So basically, I'm not qualified to write this post at all. However, I like food and I enjoy a good romp through Disney parks, so considering your friend and mine, kellybakes, is currently in Orlando, I've compiled this list of five quintessential snacks for her to try at Walt Disney World!
This post is just dipping a toe in the wonderful world of Disney Parks food, and doesn't really do justice to the expansive options available "on-property" (lingo for the 42 square miles Disney owns in central Florida.) Disney has rehabbed the "hamburger and pizza" images of theme parks with over 100 restaurants with diverse menu options, from African-inspired Jiko: The Cooking Place, to central Florida's only AAA Five-Diamond restaurant, Victoria & Albert's.
Mickey Waffles
Unlike the rest of the items on this list, you can find Mickey Waffles practically anywhere, and there happen to be a few variations. Sure, it's basically just a regular ol' waffle, but who isn't a sucker for food in the same of famous cartoon characters? (I'm lookin' at you, Cars-shaped Kraft Macaroni & Cheese!) If you happen to secure a reservation at the hot-ticket Chef Mickey's in the Contemporary Resort, you can load up on these thick, crispy waffles and also meet the Fab Five (Mickey, Minnie, Donald, Goofy and Pluto) while you eat!
A thorough list of Mickey waffle venues can be found on the Disney Food Blog!
School Bread
Found at the Kringla Bakeri og Café in Epcot's Norway Pavilion, this pretty sizeable treat is loaded with vanilla custard and adorned with icing, toasted coconut and a dollop of…more vanilla custard. The texture and flavor of the coconut balances out the sweetness of the filling; these are too easily digestible. You can find your very own recipe on AllEars.net!
Dole Whip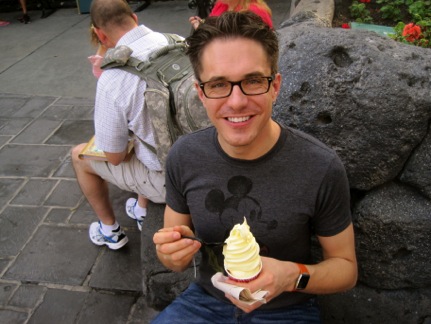 As with most of the items on this list, the Dole Whip is not so much the "greatest thing ever!" as much as it's the Disney dessert. It's actually a non-dairy frozen dessert, and comes in a variety of flavors and combinations: pineapple, orange, and vanilla, all of which can also be coupled with pineapple juice for a Dole Whip Float. The best, and the only reason to seek out Aloha Isle in the Magic Kingdom's Adventureland, is the straight-up pineapple.
If you want to control your Dole Whip portions, it's available self-serve style at Captain Cook's at the Polynesian Resort.
Turkey Legs
Don't let the cutesy turkey leg-shaped Rice Krispie Treat fool you: there are actually for free, whole-pound turkey legs available at all four parks on Disney World property. There's something disgusting yet marvelous at seeing whole families tearing into frightfully-large bird appendages, but they've become a multi-generational tradition. The turkey leg brings people together!
Mickey Premium Ice Cream Bar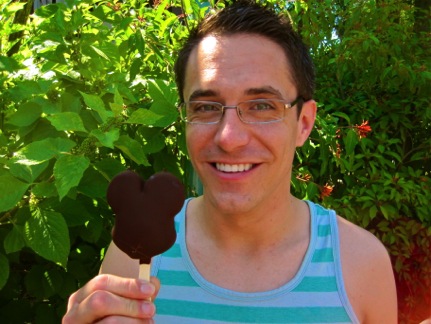 Okay, okay…so maybe I lied. The Mickey Premium Bar may just be the one can't-miss treat at Disney World. Available basically every 50 feet in a Disney Park, it's your standard Nestle vanilla ice cream bar dipped in dark chocolate. It's not reinventing the ice cream wheel, but there's something satisfying in its simplicity, especially walking down Main Street, U.S.A., chopping off Mickey's left ear.
The Runners Up
LeFou's Brew
This is one of the most popular menu items at Disney World, as it's the signature item at Gaston's Tavern in the New Fantasyland addition in the Magic Kingdom. While the name and locale would imply libations, don't get your hopes up; with the recent exception of the new Be Our Guest restaurant, Disney World doesn't serve alcohol in the Magic Kingdom per Walt's request. Still, it's a flavorful if unspectacular concoction of frozen apple juice, marshmallow, and pomegranate foam. If you don't fork over the four bucks and change for one, at least peak your head into the tavern, a swell recreation of the location in Beauty and the Beast.
Cupcakes
"The cupcake craze has come and gone!" you say?? Well, fear not, foodies, because Disney is tapping into your sense of cupcake nostalgia. Some of the most decadent (and decently priced, by Disney standards, at $4 a pop) can be found at Starring Rolls Café in Disney's Hollywood Studios and the Kusafiri Coffee Shop and Bakery in Disney's Animal Kingdom.
Caramel Popcorn
One of my favorite, if cavity-inducing, treats at Disney World is the caramel popcorn from Karamell-Kuche in Epcot's Germany pavilion. Here's the secret: it's popcorn drenched in melted down Werther's Originals candy! So yum that squirrel even likes it!
While not an exhaustive list by any means, if you haven't been to Disney World since you were a kid (or if you haven't been at all!), I encourage you to try these "staples" as well as indulge yourself in a few of the other gems on property. The variety per 42 square miles is pretty magical.
When he isn't too busy being lazy, Jeff occasionally writes and doodles for his gay marriage and more blog, Lance+Jeff (the more attractive one is Lance…but don't tell him that. The last thing he needs is an inflated ego.) You can also find him on Facebook and Twitter.